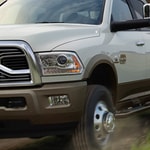 If you have not looked at the Ram 3500 lately, then you may be more than surprised by the interior. To put it quite simply, the Ram 3500 now has an interior that can give most luxury vehicles a run for their money. Here's a look at a couple of ways the Ram 3500 outshines more other vehicle interiors.
If you like big tech, then you will want to see the Ram 3500s 12-inch vertically mounted touch screen. This screen is not only big, it gives you a fast response. This touch screen really feels like having a big tablet right on the center console. That comes in handy when you want more information on your touch screen.
When it comes to comfort, the leather seats on the Ram 3500 are a real surprise. They are comfortable and luxurious as well as great looking.