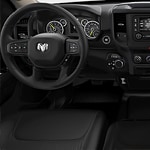 The Ram 1500 is a pickup truck that has a 3.0L EcoDiesel V6 engine. It also has a multifunction tailgate. Additionally, this vehicle has several features that will make your driving experience a lot safer. Guided parking is one of those features. The system will tell you when to engage the gear, brake, and accelerate. It will control the steering automatically.
Many car accidents occur because people cannot see what is around them. However, if you have the Ram 1500, then you will have eyes all around you. This vehicle has a 360-surround view camera that will give you a complete view of what is around you. Not only will it be easier for you to drive, but it will also be easier for you to hook up a trailer.
One of the many benefits that come along with test driving a vehicle is that you will be able to try out the features. Visit our dealership today!