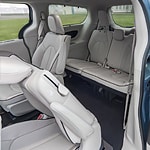 With the Chrysler Pacifica Hybrid, you will be getting a van that provides you with so much more than just transportation. This is a vehicle where you will be able to make memories. The entire family will have their own space to settle in and enjoy even the longest of road trips. The interior features on the Chrysler Pacifica Hybrid are amazing.
You should take a look at the Chrysler Pacifica Hybrid and find out how the seats can be arranged in 243 different ways. It would take you quite some time to accomplish that feat on your own, but Chrysler makes it easy. This allows everyone to have their own space and ride in comfort.
You will always need some extra space for cargo. The Stow 'n Go system on the Chrysler Pacifica Hybrid makes that easy. You can use this to fold down the second or third row of seats with ease, creating plenty of additional floor space.